Family
Finally, an estate planning option with the convenience you expect.
You want to protect your legacy. We're here to help.
Your financial advisor is an integral part of the team that wants to help protect the legacy you worked hard to build. That's why Hargrove Firm, powered by the NetLaw Platform™, works closely with your trusted advisor to offer a comprehensive solution to ensuring proper legal protections for your estate. By combining the experience of a national law firm with the dynamic technology offered by NetLaw, you get comprehensive advice through contemporary means. That's quality estate planning, intelligently delivered.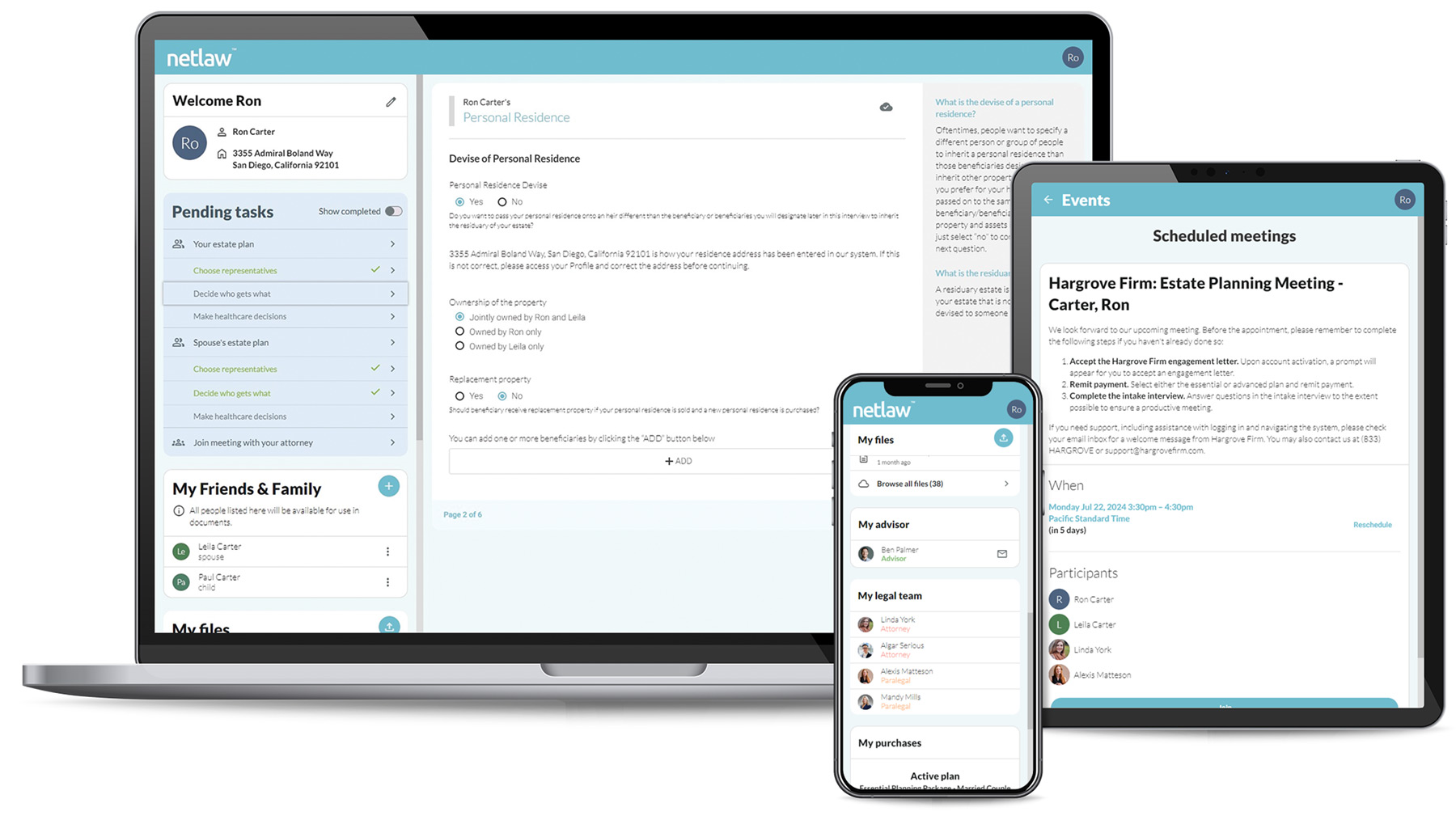 Simplify the planning process with Hargrove Firm, powered by NetLaw
Many families delay essential estate planning because they believe the process is too complicated or too expensive. It can also feel overwhelming—meeting with attorneys and filling out endless paperwork.
Hargrove Firm, powered by NetLaw, offers a straightforward alternative: best-in-class legal counsel delivered through an online system that streamlines the tedious administrative tasks, automates the paperwork, and reduces the total cost to you.
What is NetLaw?
The NetLaw Platform™ is an award-winning technology company that powers the Hargrove Firm's online practice. It connects financial advisors and their clients with attorneys who can advise on essential planning needs, all through the use of dynamic technology that facilitates everything from meeting scheduling to the client intake process. Thanks to these efficiencies, attorneys can focus on their clients' planning and not administrative tasks.
Who is Hargrove Firm?
Hargrove Firm is a standard-bearer in the practice of estate planning law. Founded by Jamie Hargrove, the national law firm has an impeccable track record of excellence in providing estate planning counsel to financial planners and their clients. The practice touts of counsel relationships with experienced attorneys across the country who provide state-specific estate planning advice and legal services to their clients. Hargrove Firm created the NetLaw Platform™ to better serve clients nationwide.
Why advisors refer clients to Hargrove Firm for online estate planning
Simply smart
The SmartGuide™ interview guides you through key decisions in the estate planning process from the comfort and convenience of home.
No compromises
The online platform eliminates tedious paperwork and red tape without compromising on service, support, or security.
Unequaled value
Pay a fixed fee for estate planning with the guidance of a qualified attorney licensed in your state. No hourly rates, no guesswork, no surprises.
---
Planning your estate is one of the most important things you can do for your family. Hargrove Firm removes the barriers that complicate the process while ensuring legal protections for your estate.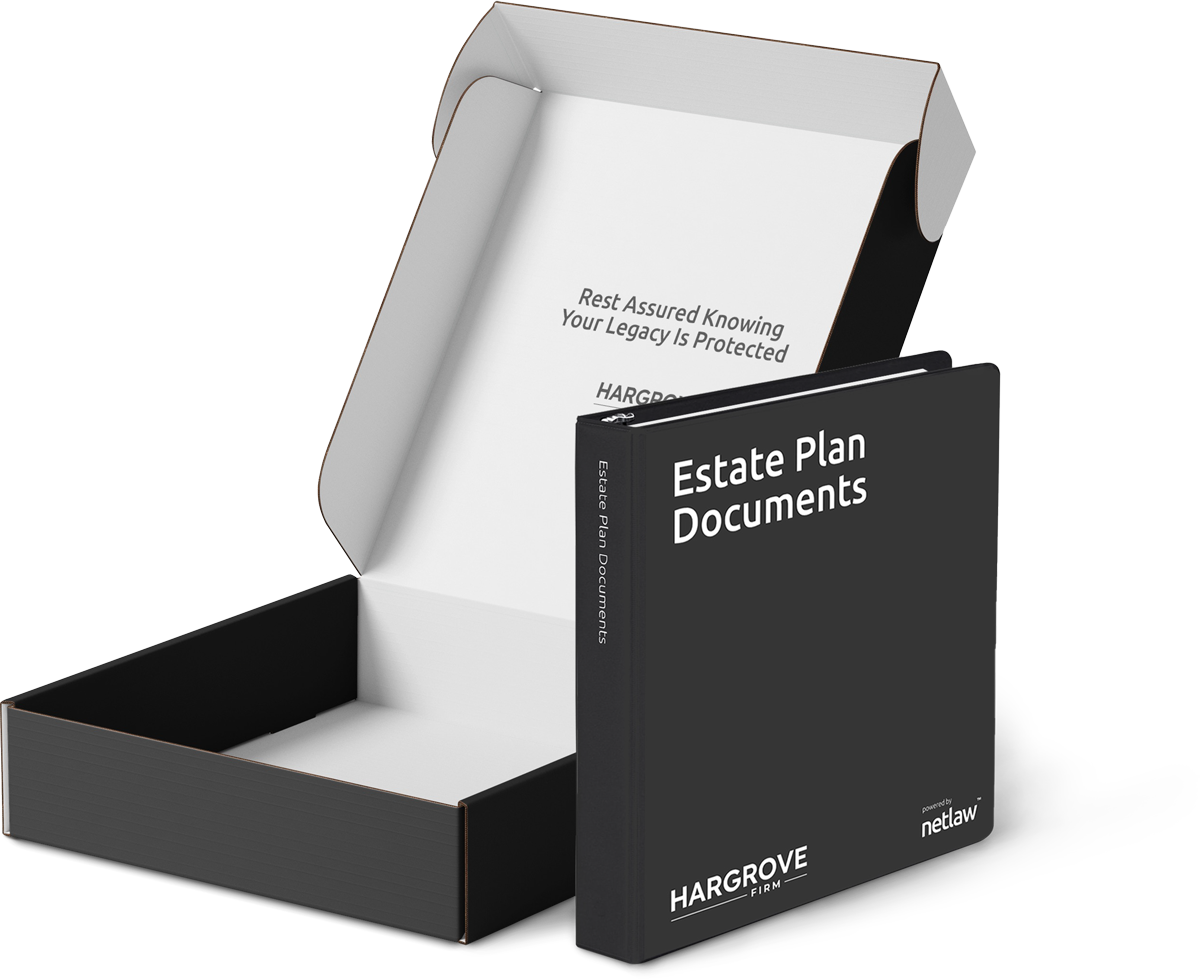 Hargrove Firm's online planning process makes the estate planning process from beginning to end. From meeting with attorney, to executing and returning documents, to secure storage, family's know their legacy is in good hands.
What's included and how much does it cost?
Get Started
Your financial advisor can help you start securing your estate with Hargrove Firm.
Ask your financial advisor to send you an invitation to the online estate planning portal and schedule the meeting.
Register, remit payment, and complete the SmartGuide™ interview.
Meet with a Hargrove Firm attorney and your financial advisor.
Execute and return the documents.
Enjoy the peace of mind knowing you've secured your legacy!