Advisor
A better option for referring your clients to estate planning experts.
How we stand apart
Together, Hargrove Firm and NetLaw deliver the only national online estate planning option offered by a specialized law practice. What's more is that the process was designed with financial advisors in mind, recognizing the importance of the advisor's role in a client's financial life.
Qualified attorneys - A Hargrove Firm lawyer licensed in your client's state of residence advises on critical planning during an in-depth meeting and drafts the necessary legal documents.
Predictable client service - By streamlining processes that are typically time-wasters in a traditional law office setting, NetLaw ensures that your client's estate planning process is both comprehensive and efficient.
Fixed-fee pricing - Leading the legal industry in the direction of fee-only financial advisory practices, Hargrove Firm facilitates client billing through the NetLaw Platform™ and charges fixed fees for legal services. Review pricing on the Hargrove Firm website.
Nationwide access - No matter where a client is located in the United States, Hargrove Firm can address that family's estate planning needs.
Advisor-initiated process - Financial advisors can initiate the estate planning process for their clients through the NetLaw portal. Further, advisors have insight into the entire process and are encouraged to participate in the meeting between the client and the Hargrove Firm attorney.
No charge to the advisor - Advisors refer their clients to Hargrove Firm in the same way they'd recommend a traditional law firm to their clients. Clients pay Hargrove Firm directly, allowing the advisor to remain objective in the referral.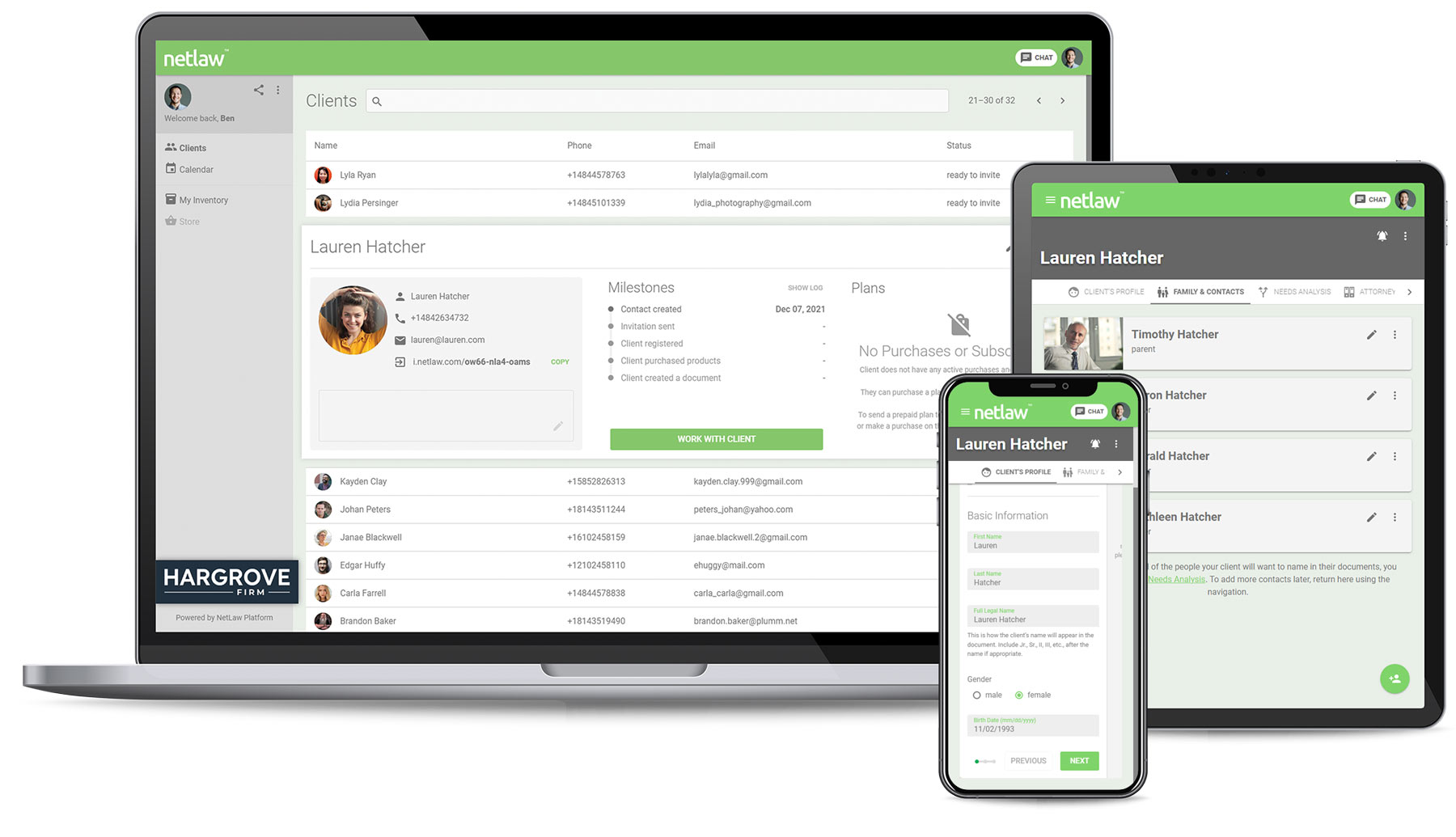 Ready to introduce a better estate planning option to your clients?
Request a NetLaw Advisor account to get access to the most efficient estate planning referral option on the market.
Complete the form below to request access to NetLaw, where you'll be able to seamlessly refer clients to Hargrove Firm for high-quality estate planning services. A member of our advisor services team will be in touch with you shortly after you submit the form.
---
Want to hear more about the process first?
Schedule a brief meeting with a member of our team to learn more.
---
NetLaw Legacy
If you're affiliated with a firm that distributes the the self-service planning option from the NetLaw Legacy product, please visit netlaw.com/legacy for more information.
Frequently Asked Questions
General
How is Hargrove Firm, powered by NetLaw, different from other online estate planning platforms?
We're glad you asked! Together, Hargrove Firm and NetLaw offer the only online estate planning services available from a national law firm. Attorneys licensed in the client's state of residence are actively involved in each client engagement.
Other digital platforms do not include a legal engagement, subjecting clients and advisors alike to undue risk.
I'm not used to legal engagements being prepaid. Why does Hargrove Firm require the client to remit payment up front?
Hargrove Firm collects client payment up front for a number of reasons. Clients can rest assured knowing that their money remains in a trust account until the services are rendered. Further, law firms are highly regulated with regard to fees. Up until the point of the attorney meeting with formal legal service is provided, a client can request a refund.
Does Hargrove Firm refer clients to my advisory practice?
As a national practice, Hargrove Firm works with hundreds of advisors and their clients. Our online estate planning business model is based upon financial advisors working alongside their clients and a lawyer to create the client's estate plan, so it is quite rare that we work with a client who does not already have an established relationship with a wealth manager and thus cannot consistently offer referrals.
That said, being able to offer consistent quality, service, and pricing to your clients who need estate planning services--all while being central to the process--has been appealing to the advisors we work with.
Legal Documents and Process
My client has existing documents that just need to be updated. How do you facilitate that?
We understand that sometimes a client comes to an attorney with an expressed need to only update certain elements of their estate plan. The principals of Hargrove Firm believe that any estate plan being updated requires a thorough and proper review, so we recommend that the client go through the complete process again, confirming or updating decisions that may have been made years ago for their existing plans.
My client only needs a Will. Do you offer a la carte pricing?
No. We believe that the vast majority of clients–no matter their life stage or net worth–should have all of the legal documents in Hargrove Firm's online estate planning package.
How can I participate in the meeting with the client and attorney given the attorney-client privilege?
Your client has the option to waive confidentiality with you, the advisor, when registering in the NetLaw client portal. Once your client grants that permission, you will be able to participate in the meeting.
The attorney assigned to my client is nearby. Can we meet in person instead?
Hargrove Firm's online estate planning service is designed for entirely online delivery, so we cannot offer in-person meetings at this time.
Getting Started
I lost my invitation link to the NetLaw Advisor portal. How do I retrieve it?